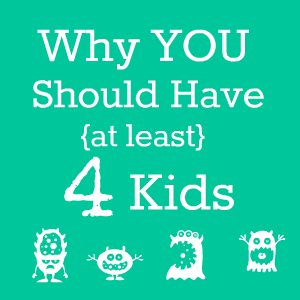 A friend of mine linked to this post on Facebook today. I won't post the whole thing here, but this should give you the gist (I apologize in advance for the mild profanity; this is a direct quote):
If you have four kids, then you have a free pass for everything.

You look like hell? Of course you do – you have four kids!

You weigh 800 pounds? Hell yes you do – you have four children!

Your house is a mess? Yes, it is – and we have some volunteers scheduled to come help you clean it and do some laundry too.

Your kids are running around like terrorists at the grocery store? Honey, you have your hands full. You take your kids right on out to the car, and I'll pay for your groceries and deliver them to you. Poor thing.

And that is why YOU should have four children.

As for me – I felt like two kids was a lot. And three kids feels like a lot too.
As a mom of three kids (and not counting, thank you very much), my friend found it hilarious. As a mom of three kids (and hoping), I did not.
There were a couple of reasons for this.
#1 – The author's implication that looking ragged, being obese, having a messy house, and having unruly children is the kids' fault just didn't sit right with me.
I'll be honesty, if I wasn't a mom, I'm sure I'd be skinnier, prettier, neater, calmer, more productive, a better writer, what have you. But the fact that I'm not? Soooo not my kids' fault. In fact, it's no one's fault.
Whoa. Did I just say that?
Weight gain. Not looking put together all the time. Not being an award-winning author. Not being Martha Stewart. No. One's. Fault.
Because it's not a fault to be less than contemporary culture's version of "ideal." It's not a personal failing to be less-than-utterly-and-completely exceptional.
My value does not lie in the state of my home or my hair or my jean size or even in how my children "turn out." It lies in who I choose to be because of the state of my home or my hair or what have you. It lies in what I choose to do because of what my life is. Right here. Right now. With kids or without.
Having one kid more or less is not going to make or break me. It's only going to push me to face more of who I really am.
And this epiphany led me to a second one – the other reason I didn't laugh.
#2 – In my observation, moms of 4+ kids do not get an "out" for their flaws.
Large family moms that I have known are under exactly the same scrutiny as everyone else—maybe more so, since strangers seem to notice them so much more than moms of one or two when they're out and about. And, you know, who can blame the strangers? Big families are noticeable!
And while I have seen some reactions like those above – the "Wow, I can't believe you look that good!", "You must be supermom, all your seven children are wearing shoes!", "You have any hairs that aren't gray—you're amazing! – more often, the overwhelming response I see being aimed at large family moms who don't uphold the "ideal" is…wait for it…pity.
To paraphrase the above excerpt:
You look awful? Of course you do! What did you expect when you chose to have four children? Didn't you know what all those sleepless nights would do to your complexion?

You weigh 800 pounds? You bet you do! What rock have you been living under? Hasn't anyone explained to you that contraception can prevent that?

Your house is a mess? Yes it is. You must be a veritable slave. I'm so glad your life is not mine.
Until we get to the last point—the misbehavior of your children—in which case, the pity is often replaced by contempt.
Your children are running around like terrorists at the grocery store? Which is exactly why women were not made to have so many children! You can't control them and you can't take care of them. And don't even get me started on all the precious resources you and your brood are wasting with your gas-guzzling van and your two cartloads of groceries…
The list of criticisms goes on and on. I've known large family moms who have been spat at, told that they should be forced to submit to sterilization, mocked for their weight, told that they can be liberated from their lives of drudgery by stepping into the light of the 21st century and all its medical advances (ie birth control pills)…
I'm not saying this to be gloomy. I'm saying it because unless you know women like this, you would probably never guess how terribly cruel some people can be.
Thankfully, "some people" are not "all people."
There are still plenty of very nice people out there who, even if a bit overwhelmed by the idea of someone else having a large family, are at least willing to live and let live. There are many who are willing to offer a helping hand, a kind word of encouragement, and yes, even some who would pay a grocery bill without an ounce of pity.
If the world were made up of these people…
and if there were not so much pressure on women (moms or not) to be so impossibly super-human…
and if I wasn't looking at a possible future where I'm the mom on the other end of strangers' scrutinizing pity…
maybe I would find something in this article to laugh about.
But alas, I guess I'll have to scour YouTube to find something else to laugh about.
Something like this.
Go nuns!!!